Hydrotherapy – More than just a big float tank!
bassendean-admin
Hydrotherapy is the use of water for treatment of various conditions. It involves exercise in a warm-water pool with temperatures of 33-36 degrees Celsius. Exercises vary and are tailored to be specific to each person and their goals.
Can I attend?
YES pretty much anyone can attend! Examples of conditions that may benefit include:
Arthritis

Post-surgical patients

Various Neurological conditions

General joint pain and stiffness

Sports injuries

Fibromyalgia and Chronic Pain

Various orthopaedic conditions

Pregnancy

Deconditioned and falls risk individuals
How does hydrotherapy help?
Reduction of aches and pains – Warm water helps relax muscle spasm, and helps to increase blood circulation, which ultimately helps with healing.

Improve strength – Resistance from the water and other equipment can be used in your exercises to build muscle strength and/or endurance.

Improve flexibility/joint range – Increased temperature and mobility under water improve relaxation of tight muscles and warm a stiff joint which can improve range of motion of joints.

Improves general fitness – Improves heart and lung function, circulation, muscle strength and endurance just like any other land-based exercise.

Minimal impact on joints – Water buoyancy can help with reducing the effects from gravity and ground impact, being an excellent choice for patients who suffer from conditions such as arthritis where some land-based exercise is too uncomfortable.

Makes you feel good – Exercise releases hormones called endorphins which are our "happy hormones". Water buoyancy also makes you feel "weightless" allowing you to do more exercises than perhaps able to on land which results in a confidence boost!

Can reduce swelling – for example; post-surgery or even after sports injury. Water provides "hydrostatic pressure" which can exert external pressure to the limb to assist with drainage of swelling

Improves balance, therefore reducing risks of falls – Water is a moving body, which means your muscles have to work to provide a stable environment for you to exercise in, and we can take advantage of this to improve balance.
Things to consider
You don't need to be an elite swimmer. As long as you can stand independently and are confident in water up to chest/shoulder height you will be fine as we can give you a pool noodle and position you at the edge until you build your confidence and ability. A few other things that should be considered in deciding whether hydrotherapy is for you include:
Wounds or skin infections

Virus or upset tummy

If you have a raised temperature

High or low blood pressure

Breathing difficulties

If you receive dialysis

Angina or heart problems

Incontinence

Chest infection

Chlorine allergy

Uncontrolled diabetes, asthma or epilepsy
Still unsure?
Our current hydrotherapy group has people of all different ages and injuries levels, from knee reconstructions and replacements, to back pain, chronic pain, falls prevention and general deconditioning.
We all meet at Bayswater Waves on Tuesday and Thursday from 11-12pm, get in the pool, including myself, and go through your individual exercise program that I give to you on that day depending utilising the wide variet of pool equipment I have, all while keeping it social and having a laugh.
If you are sold, call reception and book in for a hydrotherapy initial consultation! During this we will discuss your goals, make sure hydrotherapy is appropriate for you and perform an in-depth physical assessment to highlight some areas to include in your tailored program.
Cost is $35 per session, payable at the clinic and includes pool admission and lane hire, and if you have private health care most patients only have to pay a small gap.
If you are still unsure don't hesitate to call the clinic on 92797411 and ask to speak to me, Paul, and I will be more than happy to answer any questions you may have and put your mind at ease!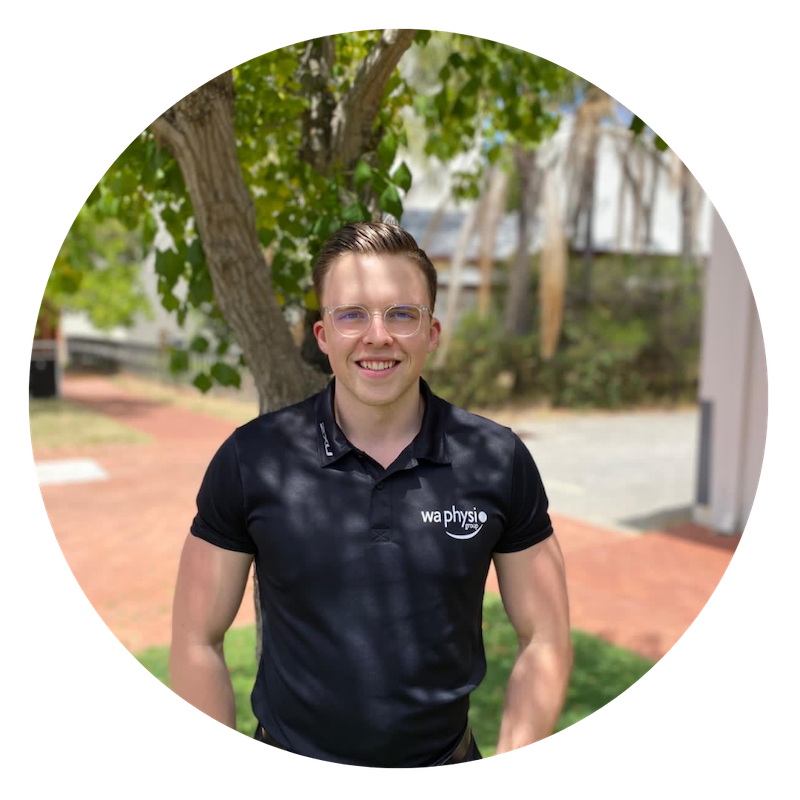 Paul Harcus
Musculoskeletal Physiotherapist
Hydrotherapy Coordinator

Paul graduated from the University of Notre Dame, with a double degree in Physiotherapy and Exercise Sports Science. This combined with his previous experience as the Colts Head Trainer for the Perth Demons Football Club, and being a rowing, and strength and conditioning coach for Guildford Grammar School, enables him to combine hands on manual therapy and exercise based rehabilitation to assist patients in achieving their goals.
 In addition to treating clinically, Paul coordinates Bassendean Physiotherapy's Hydrotherapy Program.
Outside of work, when Paul's not training at the gym, he enjoys taking the dogs down to the beach and going camping.
To read more about Paul's experience, click here.